About the 

Junior Section
The Society for Pediatric Research Junior Section introduces residents, fellows and early career faculty members to SPR by providing a variety of resources and educational opportunities. The goal is to promote networking within pediatrics and continue the development of scientists, as well as to foster transition to a career in pediatric science and eligibility for SPR Active Member status.
Junior Member nomination is open to individuals who are currently enrolled in or not more than six years graduated from established residency, fellowship or postdoctoral program related to pediatrics in an academic institution. The information below will be requested when submitting an application/nomination:
Applicant's personal and professional contact information.
Applicant's residency, fellowship or postdoctoral completion date or anticipated completion date.
Applicant's Program Director (Residents/Fellows) or Department Chair's (Junior Faculty) contact information.
Benefits of SPR Junior Section
Aids fellows in transition from fellowship to faculty through a variety of programs including:
Supports transition to SPR Active Member status.
Professional networking key to achieving independent researcher status.
Opportunities for participation in regional/national SPR programs.
Recognition through an extensive awards program and travel grants.
Opportunities to advocate for child health research funding.
Dues-free professional society membership.
SPR Helps Trainees Build a Successful Academic Career. Here's How
The Junior Section is led by a President and a President-elect who are currently in a fellowship program. Together, they work with the SPR leadership to manage and enhance the Junior Section.  Nominations are accepted in July.
This is an excellent opportunity to:
Expand your CV.
Develop leadership skills.
Work directly with SPR Officers and Council.
Shape the growing SPR Junior Section.
Eligibility:
Term:
2-years: 1-year President-elect; 1-year President
Current President and President-elect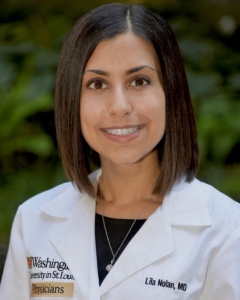 President
Lila Nolan, MD
Lila Nolan is a fellow in the Neonatal-Perinatal Medicine program at the Washington University School of Medicine in St. Louis.  Her research interests involve the study of the cellular and molecular mechanisms involved in the pathogenesis of necrotizing enterocolitis (NEC).  She joined laboratory of Dr. Misty Good upon starting her fellowship and currently studies the mechanisms by which dietary aryl hydrocarbon receptor (AhR) ligands mediate protection against intestinal inflammation using a murine model of NEC. This investigation introduces a novel therapeutic for infants with NEC and will advance the current understanding of NEC pathogenesis.
As an officer of the SPR Junior Section, she aims to provide junior members with education and support to foster successful careers as physician-scientists.