What it Means to be an
SPR Member
The Society for Pediatric Research provides professionals the opportunity to focus on improving child health through high quality research. SPR encourages and supports research endeavors by creating a network of multidisciplinary researchers for the purpose of connectivity within the pediatric community. As a diverse, innovative group of people, SPR offers collaboration among its members for research in order to create meaningful progress for the future of children's health.
Research and Presentation Forum

The Pediatric Academic Societies Meeting (PAS) is a forum for research presentation and discussion highly dedicated to its members' research endeavors. Increasingly important for translational research, members have access to professionals with a wide range of training backgrounds.
Developing Our Future Physician-Scientists


Through specialized programs and networking opportunities, the

SPR

is privileged to honor outstanding achievements through a reputable awards program. Due to the success of the Fellows section, it has been expanded to include junior faculty in the SPR Junior Member Section.
Advocacy for Child Health Research


Continuously increasing the efforts for advocacy in pediatric science, the

SPR

works with the Pediatric Policy Council (PPC) and the Federation of American Societies for Experimental Biology (FASEB) to ensure that lawmakers understand the value of dedicating resources for medical research.
Additional Benefits:
International recognition as a productive, independent investigator in pediatrics
Opportunities to serve as abstract reviewer, session moderator or discussant at PAS Annual Meeting
Propose concepts for scientific sessions, workshops and special interest groups at PAS Annual Meeting
Serve on SPR council, committees and work groups and vote in SPR elections
Encourage fellows to apply for membership in the SPR Junior Section
Subscription to

Pediatric Research

, the SPR journal
Access to online membership directory and web-based tools
Representation in national organizations: Association of American Medical Colleges/Council of Academic Societies, National Association of Biomedical Research, American Board of Pediatrics Nominating Societies, and the Federation of American Societies for Experimental Biology
Representation in Washington, D.C.: Pediatric Policy Council, which combines the efforts of SPR, American Pediatric Society, the Association of Medical School Department Chairs, the American Academy of Pediatrics and the American Pediatric Society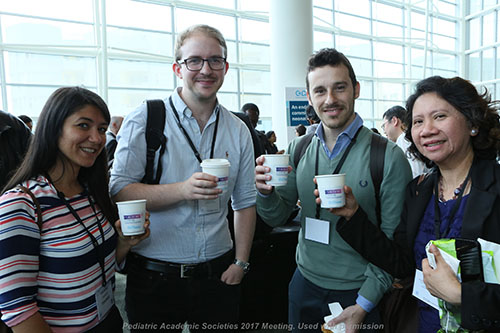 Membership Categories
 Active Members
Active Member nominations are accepted for individuals who are actively engaged in research related to pediatrics. Nominees should be less than 55 years of age at the time of nomination and have an advanced degree, such as MD, PhD, DO, PharmD, MPH or MA/MS.
Senior Members
Prospective members ages 55-65 years of age at the time of nomination and who meet the criteria for Active Members will be admitted as Senior Members.
Affiliate Members
Active members of the European Society for Pediatric Research (ESPR) and the Asian Society for Pediatric Research (ASPR) shall be automatically given an Affiliate membership in SPR upon request in accordance with any existing agreement between the organizations.
Junior Members
Junior Membership nomination is open to fellows who are currently enrolled in an established fellowship program related to pediatrics or child health in an academic institution. It is also offered to junior faculty in their first 6 years after fellowship.